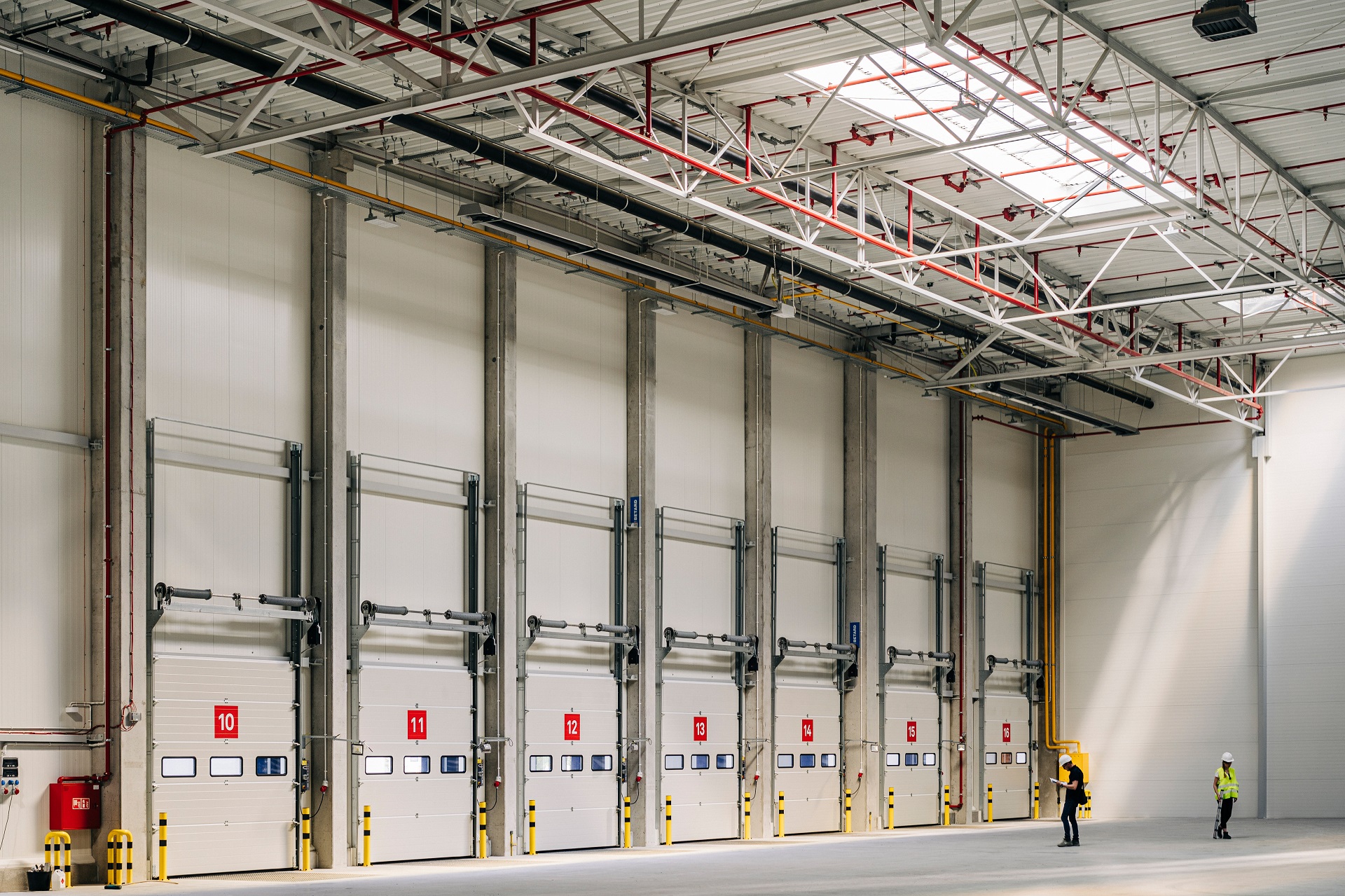 Steel halls are increasingly becoming the starting point for various types of building structures, such as warehouses, storerooms or workshops. Each design of such a hall requires consideration of individual needs and adaptation to the requirements and expectations of the investor. Industrial doors for halls are important components. Differences between various solutions may be not only in the intended use of the doors, but also in the way they are installed and operated. Below, see selected types of doors and how they work, as well as the standards that define the requirements for the installation and use.
Types of steel hall doors
Industrial doors are designed for installation in various types of industrial facilities. All should be selected according to the needs of the investor and adapted to the nature of the project. The purpose of the hall can determine which product will work best at the very design stage. The choice of the type of door also determines its operation principle and design. Here are some examples:
sectional doors – the most widespread type of industrial doors, intended, among others, for warehouses, wholesalers or courier facilities. They have a proven, uncomplicated opening system that operates by raising or lowering the gate and allows the use of different types of gate guidance – vertical, horizontal, folding. The use of such accessories as additional radars and motion detectors adds considerable convenience in the case of heavy traffic around the gates. A great advantage of sectional doors is the high speed of opening and closing. Sectional doors can be fitted with an entrance door, so that, industrial buildings can function with the doors down even when there is a lot of traffic. This solution minimises the exchange of air and cooling of the building's interior in winter, thus generating significant heat savings.
rolling doors – these are made of panels forming a roller blind. This solution is ideal for industrial halls with low height, which limits the possibility of using sectional doors. Rolling doors are not only functional, but also very safe. Note that most doors of this type can also be opened in an emergency (for example, in the event of power failure) thanks to the manual mechanism used. A particular type used mainly in the interior of industrial halls are high-speed rolling doors, which are used in places where the intensity of traffic between adjacent zones is very high and the separation of infiltrating air is crucial. The opening speed of this type of industrial door reaches up to 3.0 m/s.
sliding industrial doors – the sliding door is an excellent solution for all investors planning to build facilities with a large area, where there is a need for fire separation of adjacent fire zones. This type of transition between separate areas of the hall not only guarantees excellent heat insulation, which can be increased by installing special brushes, but also ensures soundproofing and, above all, fire resistance. Sliding doors for halls are characterised by a simple but functional frame-based design – they open and close the passage by sliding sideways. This solution seems to be very desirable, but it does not work in all buildings. Special guides are required for the installation of the doors, taking up additional space that small halls often do not have.
Doors for industrial halls – requirements and standards
All of the industrial doors mentioned above will work perfectly if they are correctly selected for the purpose of the hall. Doors are an important part of a structure and should therefore meet the highest standards of quality and reliability, not only in daily use, but also to ensure full security when the building is closed. The industrial hall door is one of the fundamental structural elements, so it is worth consulting a specialist and asking for all the details before making your final choice. However, individual requirements are not the only aspect to be taken into account when designing an industrial hall and selecting doors. There are a number of rules governing how doors should be installed and used. They are available in the list of Polish Standards and specify, among other things:
safety and operational requirements for manually operated or power-operated doors and gates (PN-EN 13241-1:2005)
requirements concerning mechanical aspects of doors (PN-EN 13241-1:2005)
requirements concerning the operation of doors with actuators (PN-EN 12453:2002)
resistance to water penetration (PN-EN 12425:2002)
resistance to wind (PN-EN 124224:2002)
sound insulation (EN 20140-3:1999/A1:2007)
thermal resistance (PN-EN 12428:2002)
air permeability (PN-EN 124226:2002)
To sum up, the above-mentioned standards are not exhaustive for the entire door related documentation area. However, by following the most important ones, it is possible to create solid and safe warehouses, workshops or industrial halls. After completion of the entire project, you should also remember to carry out regular maintenance and keep an eye on the correct operation of the door. This applies in particular to its alarm systems, the operation of the opening mechanism and tightness issues.