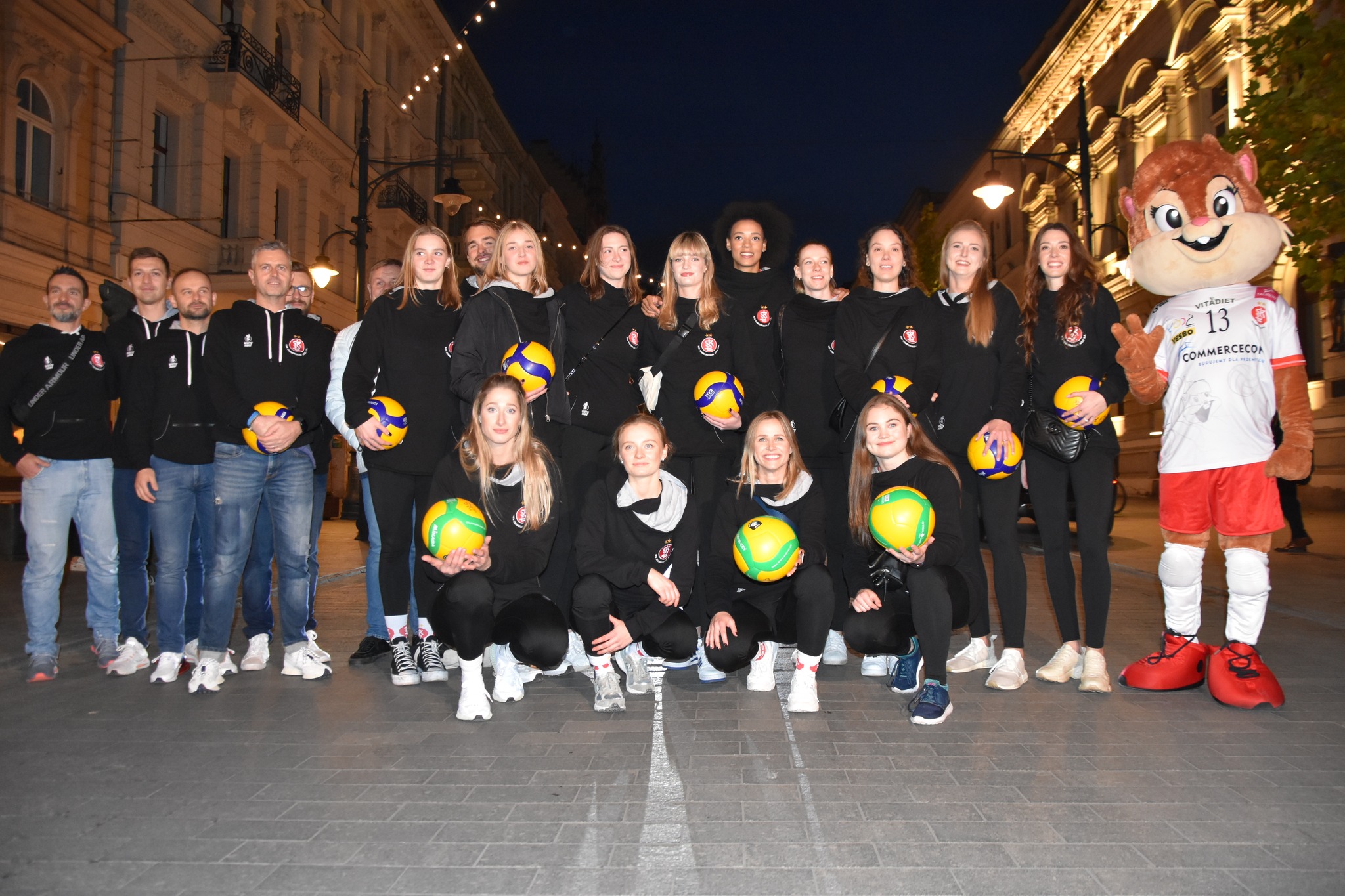 On October 25, the players of the ŁKS Commerceocn Łódź team for the 2022/2023 season were announced. The official presentation of the volleyball players and the training team took place on Tuesday evening at the MeMo Multimedia Library. Earlier, our Squirrels met the people of Łódź at the city's main street, Piotrkowska Street. You could get free tickets to the match, bounce a ball with them and have your photo with your favourite player.
A touch of Łódź on T-shirts
This year's presentation of the ŁKS Commercecon Łódź team had a few highlights. In the first, less official one, our volleyball players met the fans in Piotrkowska Street, the most famous street in Łódź. Why exactly there? This question is answered by the new design of the match T-shirts presented by the players – the front features a graphic with Piotrkowska Street with the "Representation of Łódź" inscription on the back. CEO Hubert Hoffman explains: "We are, after all, the Łódź Sports Club.
New training team, additional strength on the floor
The line-up of ŁKS Commercecon Łódź team for this season is very impressive, so another Polish championship medal seems only a formality. If this happens, it will be the sixth consecutive medal in a major national competition. This season's Łódź line-up will feature four participants in this year's World Championships, led by the setter Roberta Ratzke, who won a silver medal at the World Cup with the Brazilian team. She will be accompanied by, among others, Kamila Witkowska, Klaudia Alagierska-Szczepaniak and Zuzanna Górecka – our representative host, who is the greatest reinforcement to the team for this season. The captain Paulina Maj-Erwardt remains the libero.
However, there has been a change in the position of the coach, this season, the team will be led by Italian Alessandro Chiappini. It was he, along with Paulina Maj-Erwardt and president Hubert Hoffman, who took part in the press conference that followed the official presentation of the full team in the lobby of the MeMo Multimedia Library.
Team line-up for the 2022/2023 season:
servers: Valentina Diouf, Anastasiia Hryshchuk
setters: Roberta Ratzke, Angelika Gajer
receivers: Zuzanna Górecka, Lana Scuka, Julita Piasecka, Natalia Dróżdż
middle blockers/hitters: Klaudia Alagierska-Szczepaniak, Kamila Witkowska, Aleksandra Gryka
libero: Paulina Maj-Erwardt, Kinga Drabek

Sponsors continue to support the team
The volleyball team's very good sporting performance in the recent seasons is appreciated not only by passionate fans, but also by the team's main sponsors. Both VESBO, the market-leading brand of plumbing systems and water filters, and VITADIET, a manufacturer of dietary supplements, medical devices, pharmaceuticals and speciality foods, remain for another season. The naming rights sponsor of the team is invariably Commercecon.