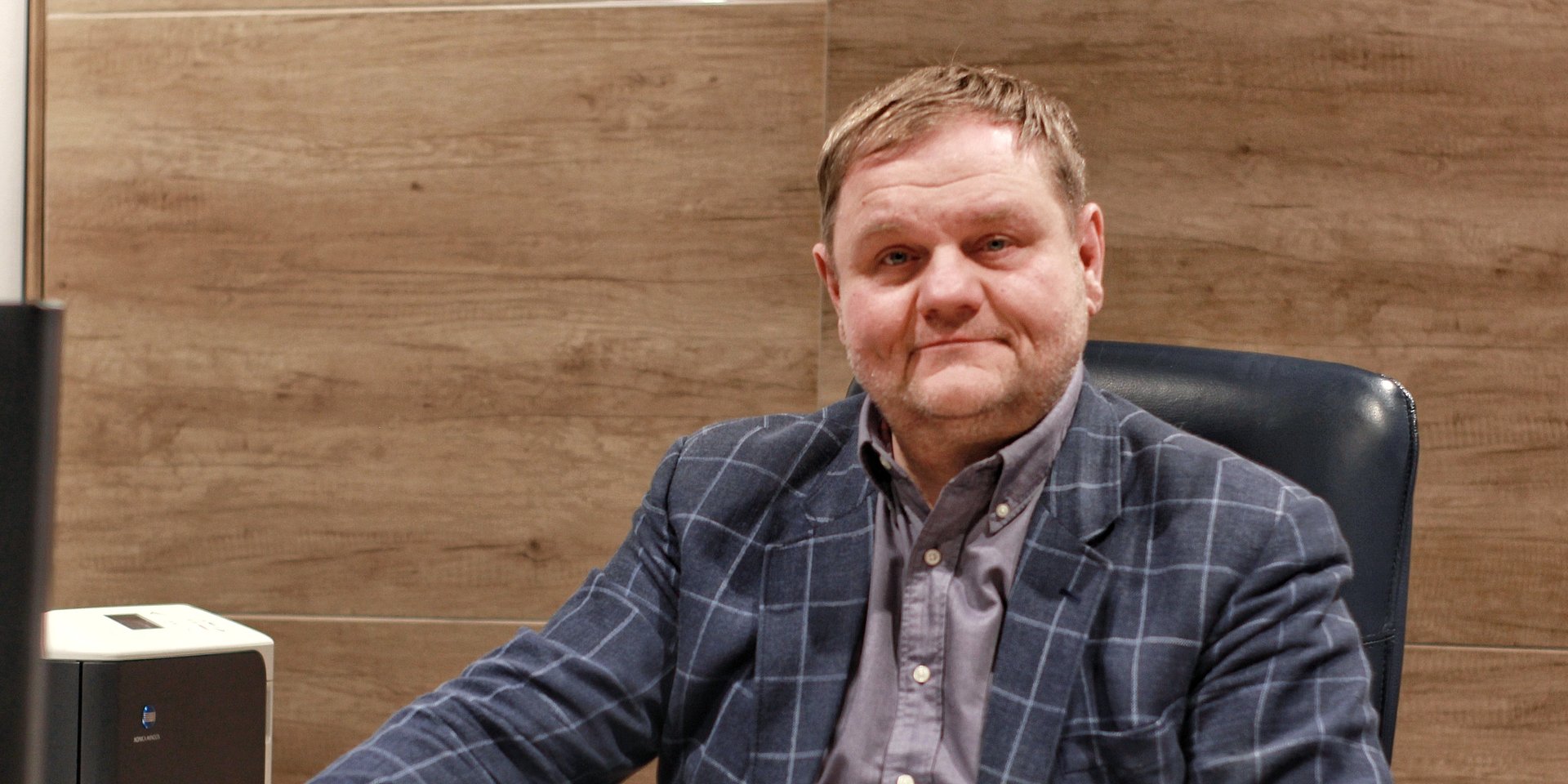 The situation in industrial construction in Poland last year was good. Never had so much storage and production space been created at the same time, and yet supply still could not keep up with the demand. That would seem to be an ideal situation for the construction business. This was not quite the case, however, and the industry faced some serious issues in the last 12 months. At the top of the list, of course, are the ever-increasing prices of building materials, and often simply the shortages of them. Another year in a row, the industry had to deal with a shortage of skilled workforce and payment bottlenecks. How did the general contractors cope in such conditions? We asked that question to Hubert Hoffman, the owner of Commercecon, a company with more than 270 industrial halls with a total area of almost 2 million square meters completed.
The pandemic has had a negative impact on the economy. Many industries, such as trade, tourism and transport have been and continue to be badly affected. But there are also those that have so far managed to get out of the difficulties successfully. Let us mention, for example, the industrial construction sector. However, the latter always reacts to economic problems with a time lag, which is why we could only start talking about its big concerns in the course of last year.
A way out of the soaring material prices?
For several months now, we have seen an unprecedented rise in the prices of raw materials and building materials which in 2021 grew at a rate not seen for at least a decade. Several factors have led to that. This was primarily a drop in production due to restrictions during the first period of the pandemic, but also a lengthening or breaking of supply chains. During that time, however, works on construction sites did not stop, so the demand for materials and raw materials did not decrease at all. This has resulted in insufficient supply, which has led to price increases that could threaten the viability of contracts currently under way. Does this problem affect large and small contractors in the same way?
The difficult situation in the building materials market has affected us, as it has all other players in our industry. In the past year, however, we have coped quite well with the challenges. Above all, it was reasonable decisions taken months ago to purchase building materials with a view to future projects that helped us. These were not easy and quite risky decisions. When making purchases at such rapidly changing market prices, you never know whether it will be profitable for you to take on future orders. However, our years of experience told us that this was the right direction. As a result, last year we were able to meet all our commitments, maintain the profitability of our contracts and, most importantly, deliver all our projects on time and with no issues.
Huber Hoffman, owner of Commercecon
How to deal with material shortages?
The problem of increasing construction material prices, while undoubtedly challenging for the entire industry, will not suddenly bring construction sites to a halt. It can only delay construction work and affect contractors' profits. But the lack of availability of steel, polystyrene foam, mineral wool or cement, which we have faced for several months now, can seriously threaten the timely completion of projects. There are a few ways out of this situation.
– This is right. There is no way to fight with a total lack of goods – you have to wait. But with limited availability of basic building materials, you can manage somehow. There was one important thing that helped us, i.e. the partner relationships developed with our suppliers over the years. Commercecon has always been a reliable business partner, delivering all contracts on time and timely paying its financial obligations on a regular basis. From the very beginning, we have run our business guided by the fair play sporting principle, respecting all our partners. This approach paid off in the past year and allowed us to operate efficiently.
Huber Hoffman, owner of Commercecon
Lack of qualified staff – a long known problem in the construction industry
Rising material prices, soaring inflation, the prospect of an accumulation of construction works in various sectors of the economy – all this fuels another problem that the construction industry has to contend with. What is it? It is all about the increasing difficulty of finding qualified workers and the growing pressure on salaries. The construction industry has long experienced a worker's market and the contractors need to make every effort to retain the best professionals. Is it the case of Commercecon?
I believe so. There is, of course, labour turnover, but this is due to natural causes. We care about our employees on a daily basis, appreciate their efforts and pay attention to their needs. During the pandemic, we quickly adapted the system and working hours so that they could manage it flexibly, and we also allowed working from home if the nature of the work allowed so. We also hired a professional physiotherapist for our employees so everyone can take care of their physical condition while working. This idea turned out to be a hit, and today we are planning a much bigger health-promoting project for our employees. But the constancy of employment is largely due to yet another reason. Our team consists of many experienced specialists who are perfectly aware of the volatility of the market situation and the fact that in our industry, as in any other, there are ups and downs. In an uncertain environment, we are less inclined to change and are more likely to rely on job security and stability which is what Commercecon has guaranteed for years.
Huber Hoffman, owner of Commercecon
Are payment bottlenecks threatening general contractors?
Despite the present challenges, the financial condition of the construction industry is not bad. According to the National Debt Register, in the first three quarters of last year, the number of indebted companies increased very slightly compared to the same period in 2020 (+0.5%). In terms of legal form, by far the largest number of debtors is among sole proprietorships, from January to September 2021, the Register recorded 35,000 such cases, while commercial law companies accounted for just under 13,500, and civil law partnerships for only 254. Interestingly, as many as 36% of business owners admit that they sometimes pay for goods or services after the due date, but 80% of them are late by no more than one month. More than half of them says the reason for delays are delayed payments from their business partners.
In this jigsaw puzzle, the position of general contractors appears to be fairly stable. However, it could be threatened by smaller subcontractors. How is that possible? – Against all odds, payment bottlenecks can also be painful to the general contractors. And is not because they lose financial liquidity themselves, although this may also happen, but because of financial problems of their subcontractors – points out Tomasz Świerżewski, key account manager at the National Debt Register in the Economic Information Bureau. – The wholesalers will eventually stop selling materials with deferred payment to indebted businesses, and leasing institutions will seize specialist equipment because it is not paying the instalments. Then, a subcontractor can disappear from the site overnight and the general contractor can take a long time to find someone to fill the gap. This will automatically hold up other work, resulting in a missed completion date. And let us remember that contractual penalties can be very severe – adds Tomasz Świerżewski. How does this look from Commercecon's perspective?
From the beginning, the Commercecon team has been organised so that we could do as much work as possible on our own – that is the hall design, formalities and the construction process itself. As a result, we rely solely on our experienced and well-coordinated team of employees in many respects. And that gives us autonomy and a really big comfort in action. However, this does not mean that we do not use subcontractors specialising in different areas of construction work. Those, however, have always been chosen very carefully and, as is the case with material suppliers, we have taken care to establish long-term relationships with them. That is why we are now linked by a trust built up over many years, a great understanding of each other's needs, knowledge of the financial situation and dozens of successfully completed projects together. There are companies for which we are the main employer, but many of our subcontractors have grown their businesses over the years thanks to working with us and now operate on a much larger scale. However, Commercecon remains a very important partner for them.
Huber Hoffman, owner of Commercecon
The year 2022 is a big unknown for the construction industry. The opportunities for its development are great, but will this potential be fully used? That remains to be seen.