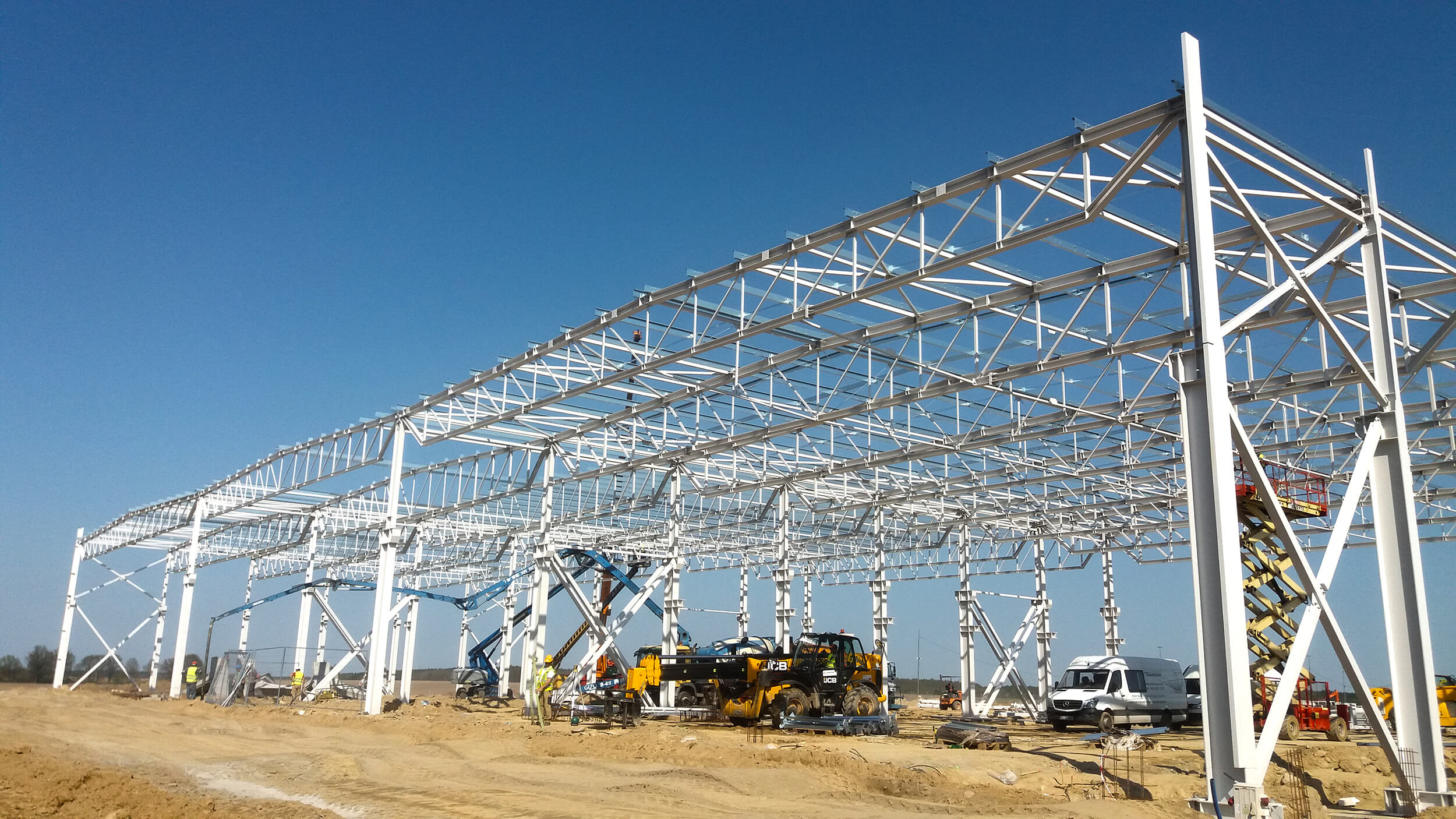 This is a question that anyone considering building a hall, for whatever purpose, would certainly want to hear an answer to. While it may seem quite simple, an answer could, in fact, be highly complex. To answer this question, one needs to ask a number of additional questions to gain a preliminary understanding of the price factors in the investment and construction process as well as the associated construction technology.
So how much does it cost to build a hall? In the following sections, we will take a closer look at the price-determining factors associated with various technologies, allowing a potential investor to make an informed decision on what kind of building they need. Narrowing down the choice to several technologies allows Commercecon to engage in a dialogue with the investor and submit a quote for the facility.
Construction costs of a brick-built hall
A traditional brick-built hall is probably what most people have in mind. Brick-built walls erected on a continuous footing, with concrete blocks below grade and commercially available masonry materials above grade, such as silicate blocks or ceramic hollow bricks, appropriately selected by the designer. Due to the nature of the materials and the construction technology used, a brick-built hall requires a high number of man-hours to complete. The above grade structure of the walls is not prefabricated and the direct labour productivity rarely exceeds 10 m2 of wall area per skilled bricklayer per day. This makes a brick-built hall an interesting option for an investor who needs a relatively small and low facility (e.g. up to 1000 m2) with a small structural span (wall spacing). As the hall's floor area grows, so does the required area of the brick walls, which makes the erection process more time consuming, delays the commissioning of the facility by the investor and generates higher operating costs of site facilities and the costs of engineering personnel. The construction cost of a brick-built hall sometimes includes the risk of downtime due to poor weather conditions, such as heavy rain and sub-zero temperatures. These environmental factors can also affect insulation and façade works, although it is not impossible to make the façade of a brick-built hall from sandwich panels, which is a technology used in the facilities which will be discussed as an alternative to traditional solutions. Another point to consider when erecting a brick-built hall with a larger floor area is that as the structural span increases, the cost of masonry work also sometimes grows due to the need for additional studs and stiffening systems to ensure safe operating parameters of the brick-built structure. It is also sometimes the case that the roof structure of a brick-built hall is made with prefabricated reinforced concrete elements or light-weight steel or wooden beams.
As can be seen, a brick-built hall is also cost-effective for relatively small structures due to the required construction time and sensitivity to weather conditions. For larger floor areas, a brick-built structure is often uneconomical because additional load-bearing elements need to be installed. In these structures, it makes more sense to give priority to other systems (e.g. steel structures) as the primary load-bearing components, and to treat masonry elements only as functional separations of space or as a supplement to frame structures.
Construction costs of a steel structure hall
A steel hall is a frame structure consisting of steel columns and girders as the elements of the main structure. The steel structure is prefabricated and ready-made elements are placed on the spot footing in the ground upon arrival at the site. When calculating the erection costs of a steel hall, consider the need to enclose the building's walls, typically with sandwich panels or steel-wool-steel systems. All in all, these solutions are less dependent on ambient temperatures and involve working with prefabricated components. Therefore, the construction of a steel structure hall is much less dependent on weather conditions and can be more accurately accounted for in the construction schedule, allowing the investor to properly plan the future use of the facility. The construction costs of a steel structure hall include heavy construction machinery for installation work, including lifting equipment such as cranes and hoists as well as equipment for moving and lifting people, which in turn contributes to a significant reduction in labour.
So, which one is better: a steel or brick-built hall?
To sum up, a brick-built hall should be considered for small and low-rise facilities. On the other hand, larger and taller facilities with greater structural spans should be erected as steel halls (including because of the duration of construction works). Also, for halls where large clearances are required, such as production halls with many columns, a steel structure is recommended.
Above all, however, it should be stressed that when considering the costs of a brick-built vs. a steel structure hall, the economies of scale, the building's individual functional and usage characteristics and its location will always play a big role, as this determines the price factors that will feed into the subsequent phases of construction work. The above text will certainly give investors a general idea as to what to look at when deciding whether to erect a brick-built vs. a steel structure hall.