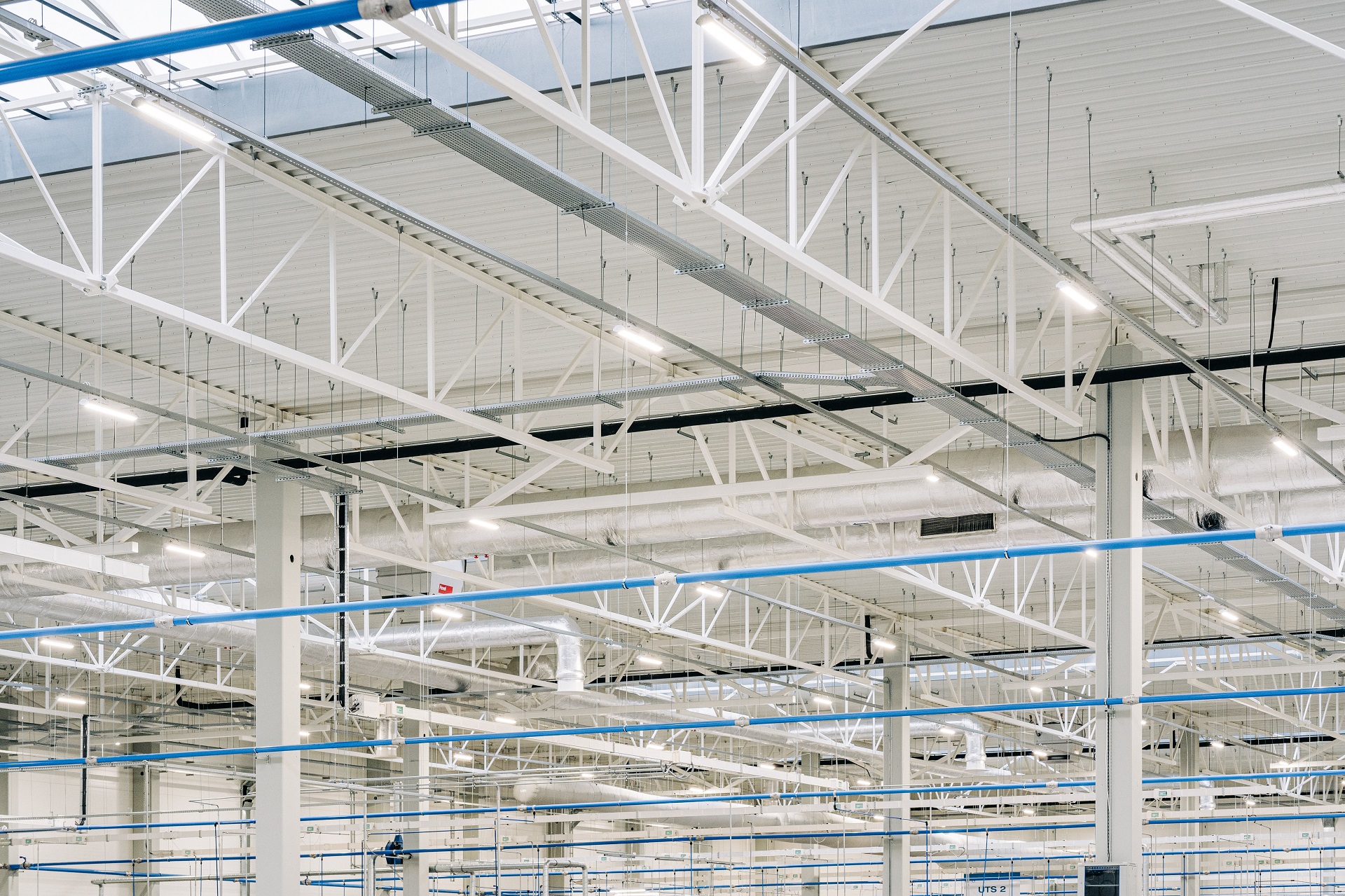 The lighting system for a warehouse or industrial hall places high demands on designers and installers in terms of both, functionality and energy efficiency. Properly designed lighting in the hall not only improves working comfort, but is also beneficial to the safety of people working there. What to look for when designing industrial facilities, including the necessary lighting systems?
Requirements for hall and warehouse lighting
The lighting system for industrial facilities is governed by Polish law. These include: Regulation of the Minister of Labour and Social Policy on general regulations of occupational safety and health and Polish Standards concerning electric lighting in work areas:
PN-EN 12464-1: 2012 Light and lighting. Lighting of work places. Part 1: Indoor work places.
EN 12665:2008 Light and lighting – Light and lighting – Basic terms and criteria for specifying lighting requirements.
According to the above guidelines, luminaires of 100-200 lx are acceptable in all passageways, and luminance levels of more than 200 lx are recommended for workplaces where people are present, often exceeding 500 lx for tasks requiring high precision.
Good light for safe working conditions
No one needs convincing that natural light is the healthiest for the human eye. It does not overload the eyes, is motivating to act, but also has a positive effect on concentration and mood. However, due to the construction and purpose of buildings, it is not always possible to provide sufficient intensity of daylight for the work. An example can be the design of a warehouse or industrial hall – in most cases, these facilities lack access to sufficient sunlight. Even though the regulations state that where employees stay for more than 4 hours, daylight must be guaranteed by installing skylights and window strips, the specified window-to-floor ratio of 1:8 cannot guarantee comfortable lighting. Note that even more favourable ratios could not always help. This is all due to the different length of day and insolation angle or weather conditions. Hence artificial light is required.
Optimal hall lighting – why is it so important?
In accordance with current legislation, the proper design of lighting in the hall should be primarily beneficial to the ergonomics and safety of employees. But also, the choice of lighting should not adversely affect the condition of the goods stored in the warehouse or the articles produced in the industrial facilities. In the recent years, another extremely important aspect of hall lighting design has come to the fore – energy efficiency requirements. At a time when investors and tenants increasingly expect the use of environmentally friendly materials and energy-saving technologies in hall construction and industrial buildings are built according to the idea of sustainable development, lighting with minimum energy consumption is simply a must. It is LED technology, of course, which, combined with innovative building management systems, fits in perfectly with those sustainable considerations.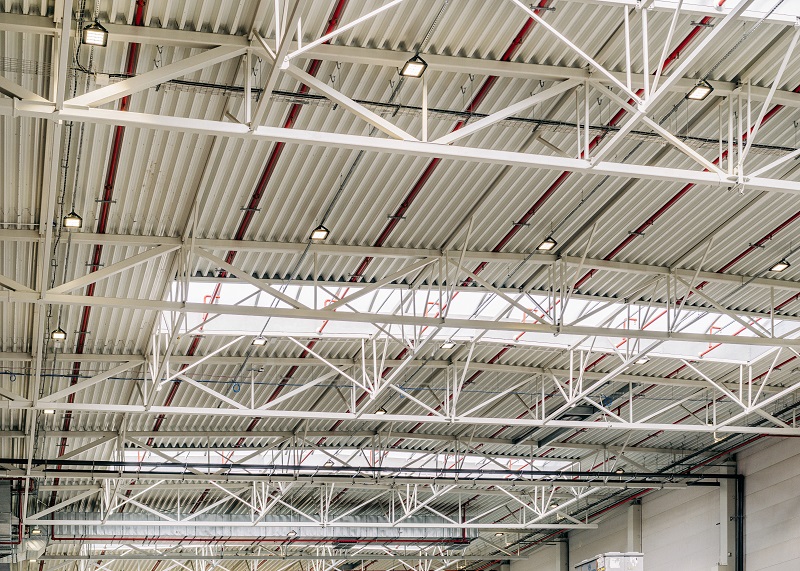 LED lighting – the current technology standard
Preparation of hall design requires a complex approach and cooperation between the designers responsible for the specific installation. Experts in electrical design have been overwhelmingly opting for LED solutions for several years. Why? The advantages are indeed many. They are faultless and – compared to traditional discharge lamps – guarantee an incomparably longer life. We rely on LEDs in warehouses largely also because they allow us to save the energy required to illuminate the facility. The technology has developed very quickly and the added advantage is the variety of solutions so that the luminaires can be tailored exactly to your needs. LED lamps are also highly functional and efficient – where motion sensors are installed, they immediately work at full power when switched on, making them ideal for areas with lower staff intensity.
Lighting parameters – what to look for when designing industrial facilities
Since the offering for LED luminaires is huge, what should be taken into account when choosing the solutions? Above all, the applicable standards and requirements for the area or workstation in question. It is for these that luminaires with specific technical parameters should be selected. The mentioned light intensity, as well as the uniformity of illumination and diffusion level will be crucial for the effectiveness of lighting. The intensity, measured in lux (lx), depends among other things on the luminous flux, the angle of radiation and the distance of the illuminated area from the source. Uniformity of illumination, on the other hand, is an indicator calculated from the ratio of the averaged and the lowest value of light intensity on a given plane. In most cases, such solutions are used in warehouses or in production halls. Sometimes, however, the nature of the work makes it necessary to use spot lighting, e.g. for individual workstations. Note, however, that such lights can create sharp shadows, which make it difficult for people at the adjacent workstations to do their job.
Production hall – requirements for sensitive areas
The area between the racks. Racks are indispensable of any storage space – properly designed and managed, they allow you to keep order in the case of a multitude of stored components or to find a specific item easily and quickly. In order for such search to be fully effective, it is necessary to ensure not only professional equipment for working at height, but also adequate lighting of the hall, to make it easy to read inscriptions on product labels or information boards.
On the transport route. One of the main tools used in internal logistics are forklifts, which are a frequent cause of accidents in warehouses. How do you prepare your space to reduce the risk of hazardous incidents? Adequate care should be taken of passageways and walkways in storage areas, using clear ground markings or installing guard rails where the risk of accidents is greatest. But the safety of warehouse workers will also be enhanced by well-designed lighting. It is not only about light intensity, but also its distribution, glare, flicker and colour rendering index (Ra). All these factors can affect the correct and unrestricted field of vision that forklift operators must have.
Industrial workplace lighting. In both, industrial plants and warehouses, there are usually work areas or workstations that require high precision and excellent eye-hand coordination. In these cases, choosing the right kind of lighting seems to be one of the key issues in terms of work efficiency.
Hall lighting is one of the most important systems with a huge impact on both, employee safety and working comfort, as well as on the cost facility maintenance. It is therefore worth analysing this decision carefully and investing in the solution that works best under the given conditions.
You will find out more in the article: Industrial construction – general contracting in construction projects