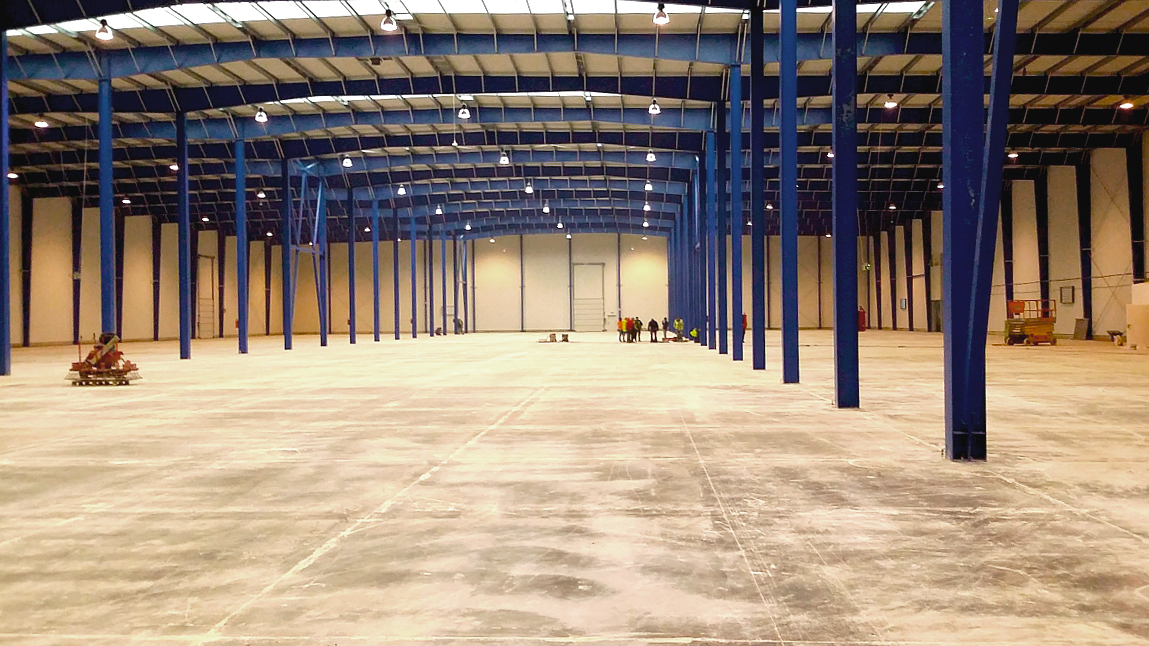 Steel halls are used in the manufacturing, logistics and warehousing sectors. Over the years, they have outgrown concrete structures in terms of popularity, offering investors more attractive economic conditions for implementing projects. Steel halls are one of the most versatile structures, so their purpose can be very varied. See what they are most commonly used for!
Applications of steel halls
Steel halls offer lower construction cost and can be expanded by adding new segments to the building. As a general contractor of industrial halls, we have faced a growing interest in this type of structure for years. From an investor's perspective, the low construction time and lower cost compared to brick buildings are of great importance.
Steel structures are used primarily, but not exclusively, in the industrial construction sector. They are most common in:
industrial halls and production buildings;
warehouse halls;
logistics halls and shipping centres;
exhibition halls and pavilions;
conference centres;
large shops;
waste sorting plants;
sorting centres and agricultural exchanges;
building and garden centres;
cold stores.
The above list of the uses for steel halls is by no means exhaustive. Since the design of steel industrial halls can be fully customised, the projects in completely different industries can be completed. Steel structures are also used for leisure activities such as sports and entertainment arenas.
Steel hall structures
The construction of industrial halls is faster and simpler than that of reinforced concrete structures. In terms of structural solutions, steel halls can be divided into the following variants:
rigid frame structures – columns supported by joints and girders based on them made of full-wall plate girders, usually of I-sections. The columns and girders are rigidly joined in this system to provide overall stability in their plane, they are often made as tapered sections for and economic use of material
skeleton frame structures with lattice girders – columns joined to the foundation, made also of I-section metal plates on which the lattice girders are supported. Such girders are much taller than the latter, however, they are more slender and allow building of roof sections with much longer spans. In principle, the longer the roof girder, the more economically reasonable it is to form it as a lattice.
free-span frame structures – a structure with girders (usually lattices) spanning in two perpendicular directions. The girders of the sub-direction rest on the girders of the main direction, and these rest on the columns. This structural system provides the longest intervals between structural columns, allowing for greater freedom in space use.
The general contractor for industrial facilities is responsible for the correct choice of materials and solutions adopted in accordance with, among other things, the guidelines of the architectural design. Steel structures consist of a number of different components.
Structural components of steel halls include:
primary structural elements such as footings, columns, girders,
secondary structural elements, including purlins, bracing,
non-structural steel elements: door, gate and window spandrel beams,
cladding elements such as reinforced concrete sill plates, roof sheets, sandwich panels, wall coffers, light bands, skylights, smoke flaps and façade skylights
Industrial halls
Steel halls can be designed with various structural arrangements. The primary area of all industrial facilities will be a dedicated space for production and storage. The zoning is done at the initial design stage and requires careful consultation with the investor to understand the purpose of the hall and their individual needs. Production facilities usually need to be equipped with staff areas, a loading area for receiving and shipping goods and an office area for clerical staff.
As a general contractor for industrial halls, we offer you the construction of functional and cost-effective production, storage and other halls. We take care of both the economic and aesthetic aspects by using high-quality materials and drawing up a flexible hall design. Building a hall from A to Z is a service that also includes landscaping the surrounding area, installing lighting and security solutions.